Planowanie to nie nasza specjalność. Wiemy gdzie chcemy jechać, przynajmniej tak nam się wydaje, dając sobie czas, bez konkretnej daty. Zresztą planowana trasa również się zmienia pod wpływem poznanych ludzi. Zbliżała się ważna dla Kanadyjczyków data, dodatkowo obchodzona hucznie i trzeba było zadecydować co robimy i gdzie. 1 lipca 2018 świętowaliśmy 151 rocznicę powstania Kanady w forcie Fort George w miejscowości Niagara-on-the-Lake, starej stolicy prowincji. Były pokazy i inscenizacje z życia fortu z początku XIX wieku, koncerty, grillowanie i najważniejszy punkt dnia – pokaz fajerwerków.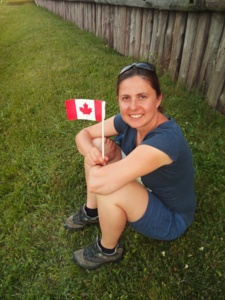 A skoro byliśmy już tak blisko znanych wodospadów to należało je też odwiedzić. Niagara Falls nie zrobiła wrażenie na Marzenie. Ładnie ale nie było WOW! Za to miasteczko Niagara Falls skutecznie wystraszyło Marzenę. Połączenie kiczu z Krupówek z kiczem z Krynicy Morskiej i podniesienie do potęgi n-tej. Mała namiastka Las Vegas w Kanadzie. Marzena pozostanie na pustyni, jeżeli Sergio zechce zwiedzać amerykańską stolicę rozrywki.
W podkowie jeziora Onatrio pozostaliśmy prawie przez dwa tygodnie. W tym rejonie mieszka 25% ludności całej Kanady. Jest to również jedno z największych jezior w Ameryce Północnej. Postanowiliśmy postarać się zwiedzić 5 największych z nich, których pierwsze litery w języku angielskim tworzą wyraz HOMES (domy), a więc:
H – jezioro Huron,
O – jezioro Ontario,
M – jezioro Michigan
E – jezioro Erie,
S – jezioro Superior, po polsku nosi nazwę jezioro Górne.
Jezioro Ontario i Erie udało się zwiedzić w czasie przymusowego postoju. Dlaczego przymusowego, o tym za chwilę.
W Hamilton zwiedzilismy również okręt, który jest powiązany z jednym z polskich miast.
Chodzi oczywiście o Gdynię i stacjonującą tam Błyskawicę. HMCS Haida jest siostrzanym okrętem ORP Błyskawica. Będąc w styczniu w Gdańsku z wizytą u Marcina wybraliśmy się zwiedzić Błyskawicę. Punktualnie o 14:00 staneliśmy przy kasie i nic. Po kwadrancie czekania okazało się, że kasa bedzie otwarta o 14:00 ale dopiero w maju. No cóż, my zwiedziliśmy Haidę w Kanadzie a Marcin z Wujem w wakacje zwiedzili Błyskawicę w Gdyni.
A więc dlaczego przymusowy przestój? Sergio postanowił pozostawić w tej części świata swoje dwa zęby mądrości i majątek za ich pozbycie się J. Z powodu długiego weekendu związanego z Dniem Kanady i terminem wakacyjnym czekaliśmy parę dni na konsultację. Trafiliśmy przypadkowo do klinki, w której Marzeny polskość miała znaczenie. Dzięki temu, że lekarz miał polskie pochodzenie i Pani w recepcji była Polką, udało się przeprowadzić zabieg w dniu, w którym normalnie lekarz ma wolne. Sergio został znieczulony całkowicie i niczego nie pamiętał pomiędzy ostatnimi słowami pielęgniarki i pobudką do przytomności w domu studenckim. A wydawało się w międzyczasie, że jest przytomny i rozumie wszystko co do niego się mówiło. Marzena żałuje, że nie zapytała Sergia o sekretny pin do złotej karty bez limitu. Taka sytuacja może już się nigdy nie powtórzyć.
Po pozybciu się bolącego problemu, mogliśmy znowu ruszyć w drogę i odkryć nowe wody, ale o tym w następnym poście.