Planning is not our specialty. We know where we want to go, at least we think we do, allowing ourselves time to reach it. Anyway, the planned route also changes under the influence of people we meet along the way. The most important date for Canadians was approaching, and we had to decide where we wanted to celebrate it. So on July 1, 2018, we celebrated the 151st anniversary of Canada's founding in Fort George in Niagara-on-the-Lake, the old provincial capital. They staged the fort's life from the beginning of the 19th century, plus giving concerts, barbecues and the most important point of the day – fireworks display.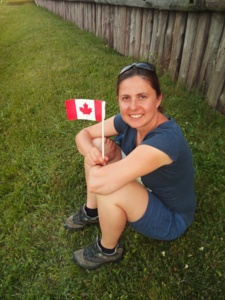 And since we were already so close to the famous waterfalls, it was a must to visit them. Niagara Falls were a little bit of a disappointment, as they are far from being what we have imprinted in our minds. Nice but not WOW! In fact, Niagara Falls town effectively frightened Marzena. The combination of kitsch and millions of tourists make it a small Canadian Las Vegas. Just for you to know, I'm still figuring out how to take Marzena to Las Vegas without her noticing it! She will not be happy waking up at the Red Rock Casino Resort & Spa (parking lot of course)!!!
We remained in the Lake Ontario's horseshoe for almost two weeks. In this area lives 25% of the Canada population. It is also one of the largest lakes in North America. We decided to try to visit the 5 largest of them, whose first letters form the word HOMES:
H – Lake Huron,
O – Lake Ontario,
M – Lake Michigan
E – Lake Erie,
S – Lake Superior
Lake Ontario and Lake Erie we were able to visit during a forced stop. Why? You may ask. We will come back to this subject further down in this post.
In Hamilton, we also visited a war ship that is connected to one of the Polish cities.
The city is Gdynia and ORP Błyskawica (Lightning) the sister of HMCS Haida warship.
Being in January in Gdansk, we went to visit Błyskawica with Marcin, Marzena's cousin. Punctually at 2:00 PM, when the ticket office was supposed to open, we waited for fifteen minutes but no one came. It turned out that the ticket office will be open at 2:00 PM, but only in May! Well, we visited Haida in Canada and Marcin with his father visited Błyskawica in the same week.
So why forced stop? Sergio decided to leave in this part of the world his two wisdom teeth, along with a substantial part of our trip budget J. Due to the long weekend associated with the Day of Canada, we waited several days for an appointment with a dentist. Now, here is when Marzena's nationality came very helpful. By chance we came upon a clinic that had a doctor of Polish origin and a Polish receptionist. This made it possible to carry out the procedure on the day off the doctor. Unfortunately, they were not Polish enough to reflect that in the final payment! Never the less we are grateful by the way they treated us. Thank you.
Sergio was anesthetized completely and did not remember anything between the last words of the nurse and waking up in the student home. In the meantime, it seemed that he was conscious and understood everything that was said to him. Marzena regrets that she did not ask Sergio for the secret pin code to the unlimited gold card. This situation may never happen again.
After getting rid of the painful problem, we could go on the road again.
More about this in the next post.