Zaczęło się, a dokładnie 10 maja 2018 około południa zaczeliśmy podróż życia, pierwszą tak dużą, ale miejmy nadzieję nie ostatnią.  Czekało nas ponad 2 tyś. km według tej trasy. Pierwszy nocleg zaplanowany był na parkingu przy centrum sportowym w Salamance.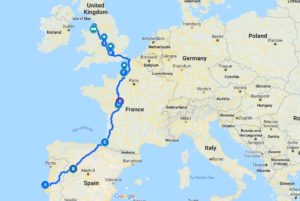 Dojechaliśmy około godz. 22:00, lekko zmęczeni ale szczęśliwi, że UMM też dał radę i zimne piwo czeka w naszej lodówce. Kolejny nocleg zaplanowany był w południowej Francji, na plaży. Wyjechaliśmy rano, około 9ej, 700 km przed nami. Wszystko szło zgodnie z planem do momentu wjechania do Francji. Jeden wielki korek, jazda w żółwim tempie, to był moment, że nawet rowerzyści wyprzedzali nas i to pod górkę! Około 19ej, wiedząc, że nie dojedziemy dalej zaczeliśmy szukać miejsca na nocleg. Jeden camping był już zamknięty, na szczęscie na innym udało nam się dogadać ze stróżem. Wymęczeni, wściekle głodni urządziliśmy ucztę i poszliśmy spać zostawiając zmywanie naczyń na rano. Rano naczynia były prawie umyte, tak jak i samochód, namiot i cała okolica. I padać nadal nie przestawało. Spakowaliśmy wszystko co się dało i czekaliśmy w samochodzie na możliwość spakowania namiotu na dachu. Ciągle padało i nie zapowiadało się na zmianę. Zmuszeni jechać dalej, zdecydowliśmy złożyć namiot w deszczu. Wskazówka praktyczna na przyszłość – namiot w deszczu składa się w stroju kąpielowym, bez względu na temperaturę otoczenia. Tego dnia Francja pokazałą nam swoje paskudne oblicze – znowu olbrzymie korki i deszcz, wiadra deszczu. Tego dnia mieliśmy zwiedzać zamek nad Loarą i zatrzymać się na nocleg w pobliżu innego, Niestety nie udało nam się dotrzeć. Zatrzymaliśmy się w małej miejscowości po drodze, na parkingu z innymi kamperami i świętowaliśmy moje 18ste urodziny 🙂
Z samego rana dojechaliśmy do zamku Villandry. Moim zdaniem to raczej posiadłość dworska niż twierdza obronna.  Ale pierwsze skrzypce tutaj gra nie budynek, a ogród, a dokładnie zespół ogrodów, tj. ogród dekoracyjny (cztery kwadraty tworzące ogród miłości), ogród wodny, ogród słońca, labirynt, zielnik i chyba największy z nich wszystkich – warzywnik (9 kwadratów).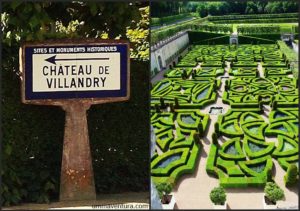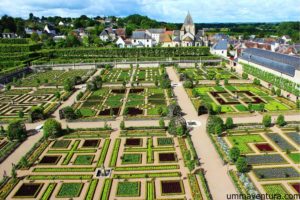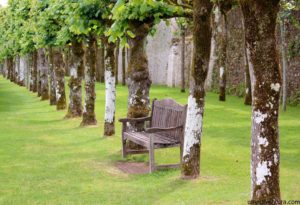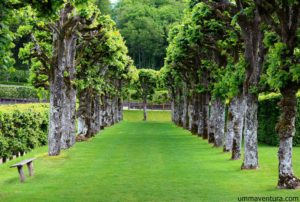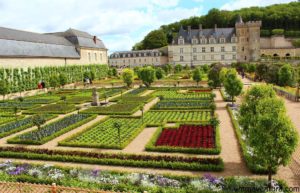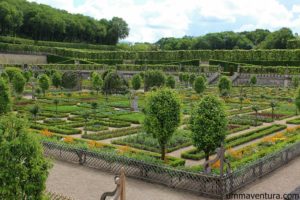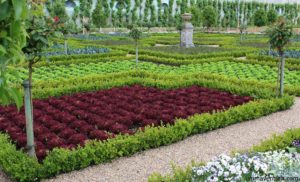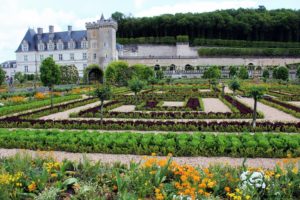 Na terenie posiadłości znajduje się 1015 drzew lipowych, starranie przycinnanych; corocznie zostaje posadzonych 115 000 sadzonek kwiatów i warzyw, a całkowita długość bukszpanów to 52 km. Zakochuje się od razu i chcę tu zostać! Pogoda tym razem dała nam chwilę wytchnienia, ale już około 12ej, pół godziny po wyjeżdzie, znowu pada. Ech ta Francja! Przynajmniej korków nie ma bo to niedziela.
W poniedziałek wisadamy na prom i jesteśmy w Wielkiej Brytanii. Na nocleg wprosiliśmy się do Marty i jej bajkowgo ogrodu, nie wspominając o pysznie kolorowej kolacji. We wtorek jesteśmy już w Liverpoolu, gdzie czekamy na statek do Halifaxu.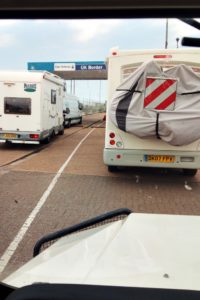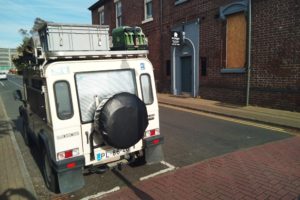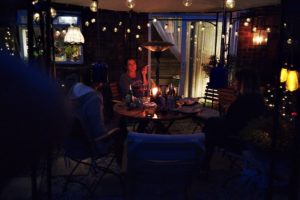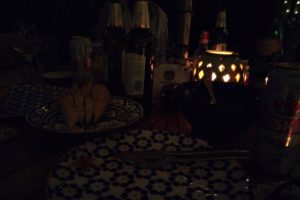 Zrobiliśmy 2377 km i zużyliśmy 250l paliwa.