The UMM 4×4 design is derived from a prototype created by the French engineering firm Cournil, called Entrepreneur. The Cournil Entrepreneur's building rights were acquired by the Portuguese company União Metalo-Mecânica, part of the Mocar group and were renamed as UMM.
They became known for their durability, especially when in the Paris-Dakar rally the team was able to finish with all the cars that started. Many UMMs are still in use by utilities in Spain, Portugal, Cape Verde (in use by the national army) and France and also by the "Guarda Nacional Republicana" (Portuguese Gendarmerie), fire service and military, although the majority of their customers were private individuals. Around 700 UMMs are still in service in the Democratic Republic of the Congo (Zaire). They are also popular in France and Angola.
UMM stopped building the UMM Alter II for private customers in 1994 but kept on taking large orders from military and utility services until 1996. Custom orders are no longer accepted. It is suspected that more than 10,000 UMMs were made.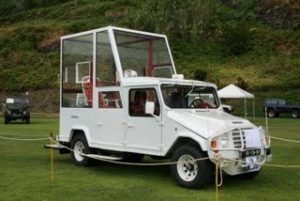 The most famous UMM is probably the one that transported Pope John Paul II in one of his visits to Portugal. It was based on a 1992 five doors, long wheelbase chassis from the Alter II. It featured a 40 mm armoured glass box on the rear with a chair for the Pope. It had air conditioning and outside loudspeakers connected to a microphone in the rear. Originally it had the 2.5-litre turbocharged engine, but due to safety impositions, the normal 2.5 litre 76 PS (56 kW) diesel engine was fitted.
An updated version was announced in 2000, powered by a 2.1 L turbodiesel engine. This engine was less noisy and had more torque at low speed. Several options were available, including air conditioning and GPS. Price was meant to be lower than a Land Rover Defender with similar finishing's. However, the company had no capital to invest in its development.
The UMM Alter is named after a well-known Portuguese horse breed.
source: